The rollout of California's statewide e-bike incentive program is getting closer, but it's still a few months away. If you'd like to buy an e-bike and need help to make your purchase, many local programs currently provide incentives, and new ones may come online soon.
We spoke with managers from two Bay Area agencies about the programs they administer. Peninsula Clean Energy (PCE) and 511 Contra Costa (511CC) have very different programs, and both have done follow-up surveys with participants, providing valuable insights about the successes and challenges of e-bike incentives.
Peninsula Clean Energy: Income-qualified e-bike vouchers
PCE started its E-Bikes for Everyone program in 2021 because "our end goal is zero transportation emissions by 2035," according to Programs Manager Phillip Kobernick. Transportation is the largest source of greenhouse gas emissions, so he says PCE saw "potentially a lot of VMT reduction potential" in its e-bike voucher program.
In 2021, PCE offered $800 vouchers to residents in its service area (San Mateo County) with income at or below 400% of the federal poverty level. "It's the most popular program we ever launched," Kobernick says. The program had a $250,000 budget to provide 300 vouchers, and they were all claimed within four days after launch.
In 2022, PCE increased the rebate amount to $1,000, did more targeted outreach to slow the process, and gave out 239 vouchers.
Like the upcoming statewide incentive program, the PCE incentive is a point-of-sale voucher. It contracts with bike shops and sends qualified customers to buy bikes there. The buyer gets a discount in the amount of the voucher, and PCE pays the difference to the shop. Participants can also buy elsewhere (about half of the people in the program chose to do that) and get reimbursed after the purchase. The incentives cover up to 80% of the purchase price, so participants must pay for the remaining 20%.
There have been some glitches in the rollout. For example, about half the people awarded vouchers didn't use them; follow-up surveys found that the main reasons were price, availability of the desired model, and inability to do a test ride. PCE offered unused vouchers to people on the waitlist, and funds that don't get used roll into the program budget for the following year. And they discovered a couple of instances where a grantee tried to sell their voucher rather than use it themselves.
Despite the challenges, the program is meeting its goals. "It looks like, through our surveys, we are seeing a noticeable reduction in VMTs (vehicle miles traveled)," Kobernick says. About one-third of participants now say that an e-bike is their primary mode of transportation, and he estimates that they have reduced their VMT by 10% on average. He noted that most cities would jump at a chance to implement a program delivering a VMT reduction.
The PCE program has had a budget of $547,000 over two years and will offer another round of vouchers in 2023. In 2022, El Concilio provided support for completing applications, and PCE worked with the Silicon Valley Bicycle Coalition to provide group rides and classes to help people feel comfortable on their bikes.
How to apply for an E-Bikes for Everyone Voucher: The program is only open for a short period each year. Check their website for 2023 program information.
511 Contra Costa: E-bike rebates without income caps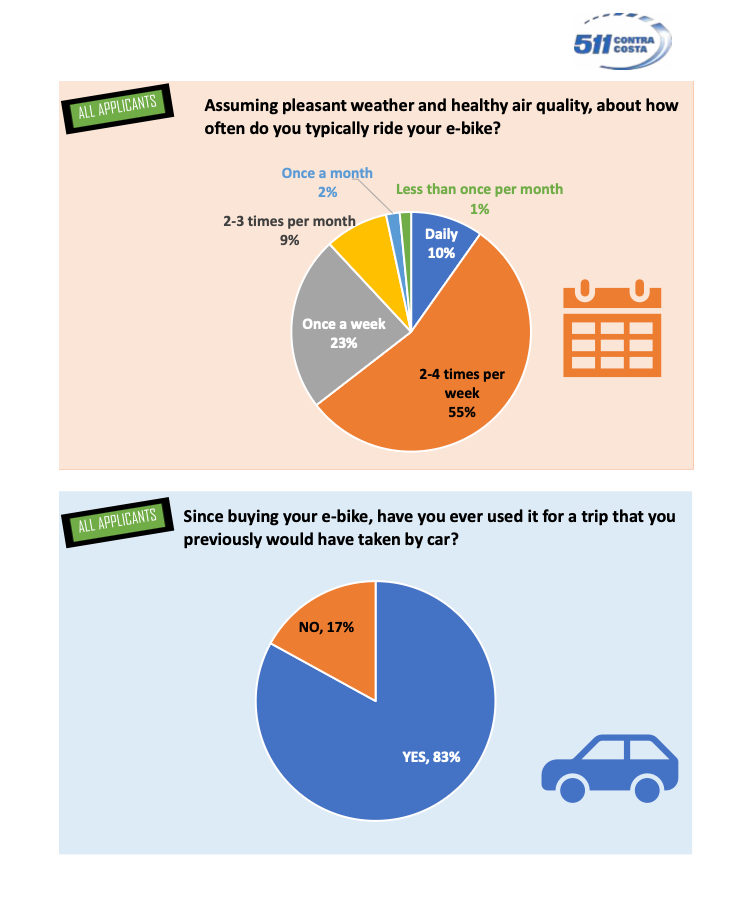 The Electric Bicycle Rebate Program 511CC offers to Contra Costa County residents differs from both the PCE and statewide incentives in several ways:
It's an after-purchase rebate rather than an up-front incentive.
All county residents are eligible for a rebate with no income caps.
The rebate amounts are much lower: $150 standard rebate; $300 rebate for people living at or below 400% of the federal poverty level.
The funds are available throughout the year on a rolling basis rather than during a short application window.
"Part of our overall goal of 511 Contra Costa is to reduce vehicle trips," says Kirsten Riker, Project Manager for Advanced Mobility Group, which manages transportation demand management programs for 511CC. "It's not designed for social equity. It's designed to get people into other modes. This is a little extra carrot."
Riker also manages a second program, Charge Up, that offers $500 rebates. Funded by a half-cent sales tax through the Contra Costa Transportation Authority, that incentive has income caps, and only residents of specific communities within the county can qualify. If someone applies for the 511CC rebate and could qualify for the higher incentive, their application is automatically forwarded to this program.
However, the primary goal of Riker's work is reducing VMT and carbon emissions. "When we developed the program, we knew that you could go with a much higher amount and help fewer people," Riker says. "We took the approach that less means more."
Since it rolled out in 2020, the 511CC program has given out $162,000 for 888 rebates, with 23% going to low-income residents. The Charge Up program has given 64 rebates since it started in 2022.
The programs do extensive surveying to determine their effectiveness, and 90% of participants have responded. That data helps ensure that the e-bike rebates are achieving their goals. It will help local and statewide agencies deliver more effective e-bike programs in the future, with a report coming soon from a UC Davis researcher. For example, the 511CC initially had a price cap of $5,000 for eligible bikes, but now every e-bike qualifies for a rebate as long as it has pedals.
"$150 isn't going to change the world," Riker says, but she feels it creates "e-bike ambassadors" — people excited about riding who want to tell their friends and neighbors how stoked they are about their bikes. She adds, "For a lot of people, their e-bike has changed their life."
"I feel like there's a tipping point. At some point, everybody's going to buy an EV because you're going to have to," she says. She notes that over half the bikes at Bike to Work Day in Contra Costa County in 2022 were e-bikes. She feels like getting people to experience the joy of biking on an electric bike is a great way to get people who have never biked to ride. "We're not going after bicyclists. We're going after drivers," she says.
How to get a 511CC or Charge Up e-bike rebate: Any Contra Costa County resident can get a $150 after-purchase rebate. If you live in an equity priority community within the county and meet the income qualifications, you can apply for a $500 Charge Up rebate.
Of course, there are other local e-bike purchase incentives available. If you have a qualifying car to trade in, you could get up to $7,500 from your local air quality management district. And stay tuned for more information about California's statewide e-bike purchase incentive program.
https://www.calbike.org/wp-content/uploads/2021/04/e-bike-father-with-kids-scaled.jpeg
1707
2560
Laura McCamy
https://www.calbike.org/wp-content/uploads/2018/07/calbike-logo.png
Laura McCamy
2023-01-17 15:39:15
2023-02-13 16:03:18
Local E-Bike Incentives Provide More Options for Californians