The past few years have been disappointing in so many ways (because, you know — pandemic, war, climate catastrophes). But 2022 had a lot of bright spots, and for active transportation in California, more highs than lows. And we think that momentum will carry us into even bigger and bolder achievements in 2023 (because we're optimists!).
Here's a brief and wholly non-comprehensive compendium of the best and worst developments for biking in California and beyond in 2022.
Best new California law that's changing the conversation across the nation: AB 2147, the Freedom to Walk Act
The governor's signature on Assemblymember Phil Ting's Freedom to Walk Act was a huge step forward for equity on California streets. The victory was the result of a two-year campaign by CalBike and our allies with outstanding leadership from Asm. Ting.
California wasn't the first to pass a law decriminalizing jaywalking: Virginia passed similar legislation a year earlier and a Kansas City law goes even further than California or Virginia in legalizing safe street crossings. But the passage of this landmark law in the most populous state in the U.S. has sparked a national conversation that may be poised to accelerate the end of outmoded jaywalking laws.
Best law adding bikes to the California Vehicle Code: AB 1909, the OmniBike Bill
Assemblymember Laura Friedman's OmniBike Bill makes several critical changes to the California Vehicle Code that make people on bikes safer. The most vital is requiring people in cars to change lanes to pass someone on a bike, which will reduce stressful near misses and dangerous collisions. This critical legislation is a big step towards recognizing that riding a bike isn't the same as driving a car, and we need road rules tailored to smart biking to help everyone share the road more safely.
Most consequential transportation design fail: The Mad Maxification of American trucks and SUVs
We don't have the statistics for 2022 yet, but the last few years have shown a disturbing increase in bike and pedestrian road deaths. The reasons for the rise are complex, but if you wanted to design a motor vehicle to maximize injury to the human body, you'd build trucks and SUVs with huge front grills and blind spots in the front as well as the rear. Bad for aerodynamics and fuel efficiency, but excellent at increasing severe injuries and deaths in even low-speed collisions. What's next, car manufacturers? Fenders with metal spikes? Front-mounted swords? Mario Kart-style shell launchers?
Most forward-thinking law that will change the way communities approach traffic planning: SB 932, the Plan for the Future Bill
Streets for All cited Senator Anthony Portantino as a bike champion on the rise in its 2021-2022 Mobility Report Card, and the Plan for the Future Bill is one big reason. This is a bold new law that requires cities and counties to not only update their circulation plans to improve safety for people biking and walking but to implement those changes. It will take several years to start seeing the effects of this measure, but we believe they will be profound, and CalBike is proud to have been a cosponsor on Senator Portantino's legislation.
Best way to destroy the climate: California's freeway addiction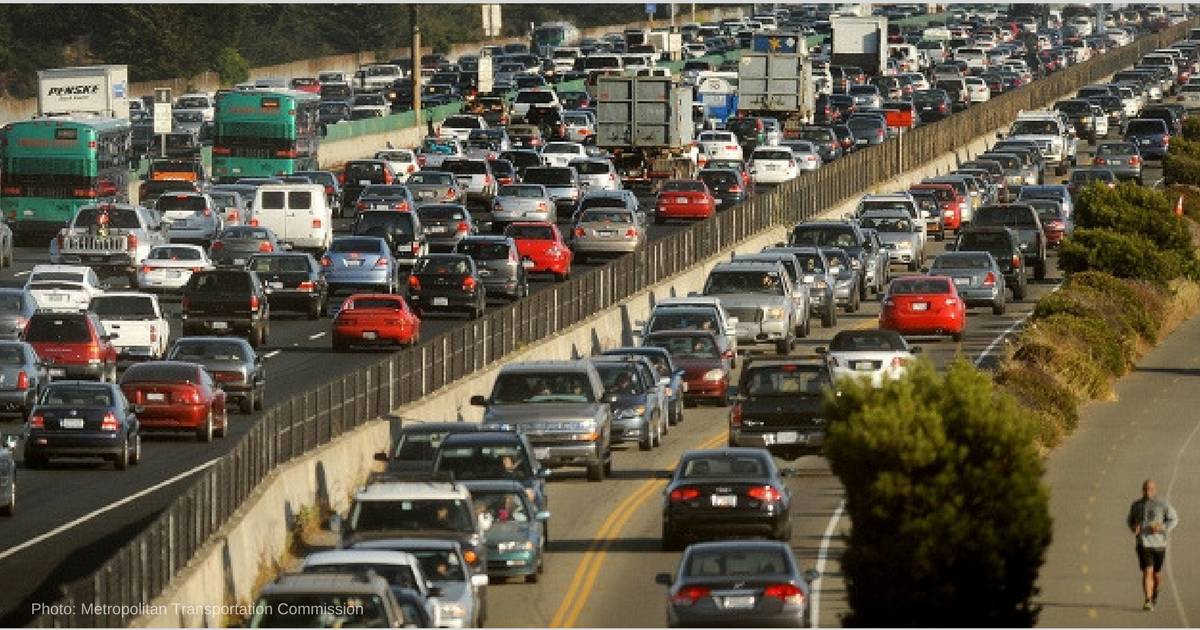 According to a recent study, the transportation sector contributes 60% of greenhouse gases in California, yet Caltrans can't kick its freeway-building habit. Even though study after study proves that adding lanes increases congestion and escalates greenhouse emissions, Caltrans continues to spend millions on freeway widening projects. Caltrans—it's time to be part of the solution, not the problem.
Best fairytale ending for car-free streets: San Francisco's JFK Promenade
During the pandemic, San Francisco expanded car-free days from just weekends to 24/7 on the main artery through Golden Gate Park, JFK Drive. The people loved it and organized to turn the road from a "drive" to a "promenade." They won! The San Francisco Board of Supervisors voted to make the car-free state permanent. There was much rejoicing on the promenade!
But some didn't like all the fun that people of all ages had biking, walking, running, and rollerskating and they said, Not so fast, happy people. The road was theirs! To drive their big, fancy cars, not for people to breathe fresh air and enjoy the park! So they put an initiative on the ballot to take the promenade away.
But the people didn't give up. They put their own initiative on the ballot to keep JFK Promenade car-free all the time. And the persistent pedestrians prevailed! Voters defeated the ballot initiative that killed joy and passed the one that preserved the car-free street. There was much rejoicing on the promenade!
And, seriously, this was a massive win that showed the popularity of slow streets. Congratulations to all involved.
Most unusual bicycle road hazard: Bull attacks off-road bike racers
When the organizers of an off-road bike race in Bakersfield called their challenge "stupidly hard," they didn't realize what an understatement that would prove to be. In the middle of the race, a bull decided it didn't like where this was going and charged riders. Fortunately, the three riders who connected with the bull's horns weren't seriously injured, but perhaps next year's course will be less bullish on animal interactions.
Best way to spend $1.1 billion: California's Active Transportation Program
California's ATP provides a dedicated funding source for projects that improve bicycle and pedestrian infrastructure. It's a fabulous program that has benefited many California communities, and CalBike is proud to have advocated for its creation, but as demand for complete streets projects increases, the amount of funding hasn't kept up.
In 2022, lawmakers increased funding for the ATP by more than 4X with a $1.1 billion infusion of cash. In the most recent funding round, fewer than one-quarter of the projects vying for money will get funded, still falling far short of what we need but much more than would have been possible without the extra cash.
Worst anticipated veto of a bill that should have passed: AB 1713, the Bicycle Safety Stop
In a year when Governor Newsom signed 15 excellent bike-friendly bills into law, Assemblymember Tasha Boerner Horvath pulled the Bicycle Safety Stop Bill ahead of a promised veto. Many states have enacted similar laws with no negative (and many positive) consequences, so the governor's intractable opposition to legalizing commonsense biking is hard to explain.
Boerner Horvath continues to champion the safety stop for people riding bikes, and she has already introduced AB 73 to create a pilot program to test it in the next legislative session, and CalBike continues to work toward a California safety stop law.
Most unexpected support for the bicycle safety stop: NHTSA says evidence shows "bicyclist stop-as-yield laws to enhance safety and protect cyclists"
If you need proof of the mainstream acceptance of the bicycle safety stop, look no further than a National Highway Traffic Safety Administration bulletin released in March that endorses laws legalizing the practice: "Bicyclist stop-as-yield laws allow cyclists to mitigate risk to their advantage, increase their visibility to drivers and reduce exposure." The fact sheet cites multiple studies showing the benefits of the safety stop and ends with, "Based upon the current research and data available, these laws showed added safety benefits for bicyclists in States where they were evaluated, and may positively affect the environment, traffic, and transportation." Thank you, NHTSA!
What were your best and worst of 2022? Tweet at us, tell us on Facebook or Instagram, or go old school and send us an email.
https://www.calbike.org/wp-content/uploads/2022/12/BestWorst-02.png
1459
5692
Laura McCamy
https://www.calbike.org/wp-content/uploads/2018/07/calbike-logo.png
Laura McCamy
2022-12-23 16:07:50
2022-12-23 17:15:22
CalBike's Best and Worst of 2022