Sunset4All: A Big Step Forward for Biking in LA
Thanks to community organizing and popular demand, Sunset Boulevard in Los Angeles could soon get a two-way, parking-separated bikeway. Sunset is a critical arterial street for East Hollywood, Silver Lake, and Echo Park. A safe connection on Sunset is essential to make these neighborhoods accessible to people on bikes. The impressive progress on this visionary project is the result of dedicated community organizing and an unusual strategy to convince the city to consider it.
Sunset4All starts with community engagement
Sunset4All is a community-led project that is fiscally sponsored by the Los Angeles County Bicycle Coalition. Organizers have spent years building support for the project, which will add amenities for people who take transit and walk as well as 3.2 miles of protected bike lanes. 
"Right now people have to choose between driving or taking their life into their hands. Sunset4All would make it safe enough to walk, bike, roll, or take transit for short trips. It would also create safe routes to school and make the "main street" of our community a more pleasant place to walk, dine and shop," said Sunset4All Co-Founder Terence Heuston. Heuston and Avital Shavit have been the powerhouse organizers behind Sunset4All.
Shavit and Heuston have enlisted more than 500 volunteers. Organizers have engaged with a wide variety of stakeholders, including bike leaders, local business owners, and ethnic communities. The proposal incorporates the important cultural history of the neighborhood, creating a cultural trail along the length of the bikeway. The result is a proposal with broad community support that will be hard for local elected officials to reject. This is key, because at least for now, in Los Angeles city council members have nearly complete authority over street design when it comes to bikeways.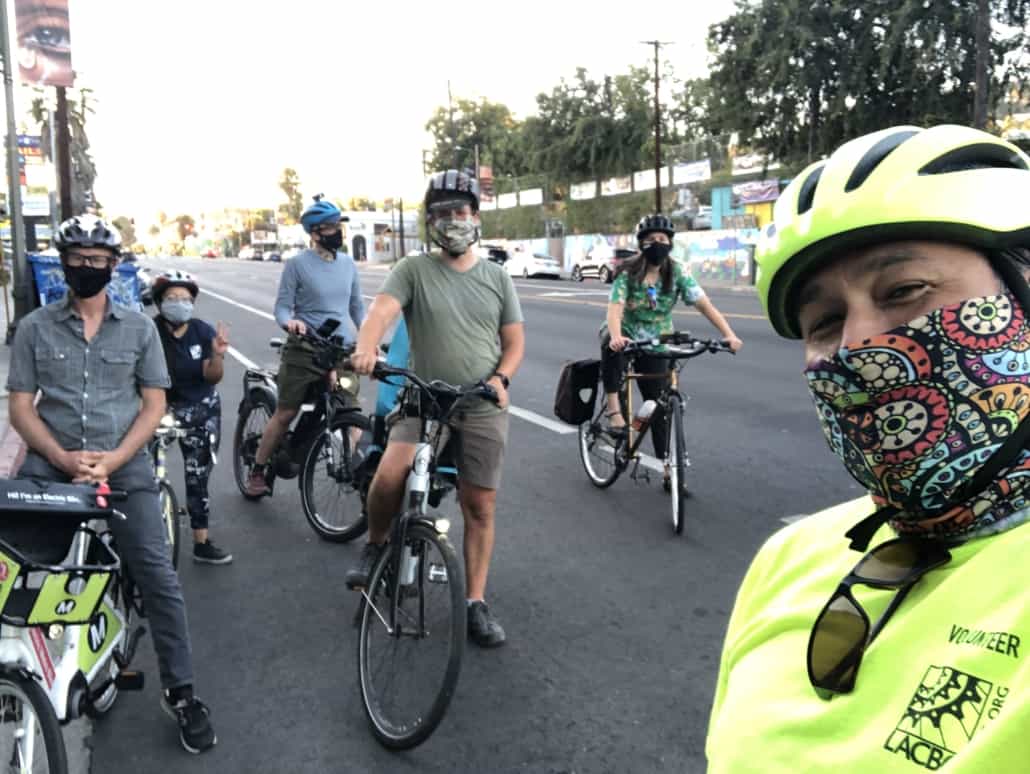 Putting the "civilian" in civil engineering
Sunset4All has one highly unusual strategy: raising money and commissioning the initial engineering plans for the street redesign. While it shouldn't be a public responsibility to hire engineers to propose plans for projects like this, sometimes that's what it takes to get past official inertia.
The strategy has its benefits because, during the fundraising process, you identify lots of supporters who care enough to chip in a few dollars. Community-funded engineering is a fantastic community organizing strategy.
"Teaming up with Sunset4All is the next step in a long collaboration with The Los Angeles County Bicycle Coalition since community leaders from our Central Neighborhood Bicycle Ambassador cohort first committed to close the existential gap in LA's active transportation infrastructure along the Sunset and Santa Monica corridor," said LACBC Executive Director Eli Akira Kaufman. "We are proud to serve a Sunset for all that is designed for and by Angelenos to transform Los Angeles into a more liveable region for everyone."
CalBike is following this innovative project with admiration. If Sunset4All and LACBC succeed, their tactics could provide valuable lessons for other communities.
https://www.calbike.org/wp-content/uploads/2021/08/Sunset-Render-20200204-scaled.jpg
1477
2560
Kevin Claxton
https://www.calbike.org/wp-content/uploads/2018/07/calbike-logo.png
Kevin Claxton
2021-08-17 18:23:17
2021-08-17 18:25:03
Sunset4All: A Big Step Forward for Biking in LA