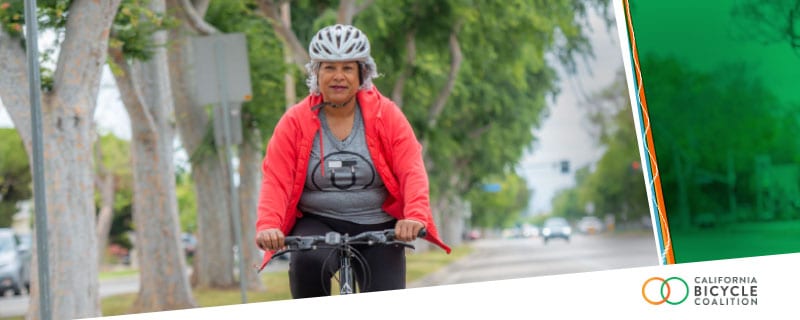 Media Guide: How to Report on Collisions Involving E-bikes  
"Teens Are Dying on E-Bikes. Should California Regulate Them?" This recent New York Times headline exemplifies a disturbing trend in reporting on e-bike safety. Headlines like this imply that e-bikes are lethal (not motor vehicle drivers colliding with people on e-bikes) and perpetuate the dehumanization of people who ride bikes and make invisible the role of traffic violence perpetrated by motor vehicles.
To combat what is, at its core, anti-bike sentiment, we look at examples of reporting on micromobility, good and bad, and provide suggestions for more accurate and balanced coverage of e-bike safety. We hope this guide will assist journalists and help the rest of us become more savvy news consumers.
Collisions are not accidents
One of the most basic tenets of reporting on traffic injuries and fatalities is that most traffic collisions are not accidents. An accident is something beyond the parties' control that can't be avoided. For example, a tree toppling onto a car is an unfortunate accident.
Yet even the New York Times, the most respected paper in the US, included this sentence in the article cited above: "Several teenagers, in California, Oregon and other places, have died recently in e-bike accidents…."
The first mistake here is the word "accidents." These were fatal collisions between people riding e-bikes and people driving cars. The second mistake is labeling them "e-bike accidents," which shows implicit bias against e-bikes and places the blame on bike riders for these collisions. Reporting like this makes the true danger (bikes sharing roadways that lack sufficient infrastructure with speeding cars and trucks) invisible.
A more accurate way to write this sentence would be: "Several teenage e-bike riders in California, Oregon, and other places have died recently after being struck by motor vehicles." That doesn't assign blame for the collision, but it includes both parties involved and leaves open the possibility that e-bikes are not the proximate cause of these tragedies.
Matt Richtel's recent series of articles about the menace of e-bikes in the New York Times is beautifully deconstructed by Streetsblog's recent article about how to spot bad bike reporting. In one piece, he says, "But the recent deaths of several teenage riders have raised concerns about the safety of some types of vehicles, and about whether they legally qualify as e-bikes." The "vehicles" in this sentence are e-bikes, which is odd because the vehicles that led to recent deaths have all been cars or trucks.
Once again, this renders the role of motor vehicles invisible and ignores the need for infrastructure investment, placing the blame for fatalities on the deceased riders and exonerating the system that led to their deaths. It's also hard not to see the hysteria about e-bikes as hypocritical when we accept tens of thousands of deaths by car annually as the cost of modern transportation.
Don't paint e-bike riders as reckless thrill seekers
Recent e-bike rhetoric has borrowed an old anti-bike trope. People riding e-bikes are reckless! They don't care about their safety or anyone else's—especially teenagers! It's similar to the way some have long demonized all bike riders as crazy and lawless.
The truth is, most e-bike riders, like most bike riders, ride cautiously, knowing their vulnerability on roads shared with heavy, fast-moving cars and trucks. In riding safely, sometimes people on bikes do things people driving cars aren't expecting, such as take the lane. Of course, some bike riders make unsafe choices on the road at times, as do some car drivers. But implying that all e-bike riders (or even all teen riders) are reckless is incorrect and biased reporting.
A quote from the New York Times piece shows this bias: "In the span of a few days, two teenage boys riding electric bicycles had collided with cars." From reading this, you might assume the e-bike riders rode recklessly, but that is not the case.
One of the boys referred to in that sentence was Brodee Champlain-Kingman, whom witnesses described as following the rules of the road and "doing everything right." He was rear-ended by a van. It's hard to understand how that could be described as him colliding with a car. In the other instance, the person interviewed about the collision didn't witness it but found the bike rider under the wheels of the car. While we don't know who was at fault, it sounds as if the car struck the bicyclist, not the other way around.
Let's rewrite this sentence for clarity: "In the span of a few days, two teenagers were struck by cars, and one later died from their injuries."
10News gets it almost right in its account of the same incident: "Brodee Champlain-Kingman was riding his electric bike north on South El Camino Real when he tried to make a left turn onto Santa Fe Avenue. He was hit by a work van." Change that to "the driver of a work van," and it's an accurate and fair description of the crash.
Be skeptical of official sources
ABC7 headlines a piece on those scary, scary e-bikes with a statement attributed to Huntington Beach police: "E-bikes pose dangers to novice users." While all vehicles are more challenging for novices, especially cars, this headline makes it sound like e-bikes are dangerous speed machines that riders can't control.
A little factual information might be helpful here. Yes, people are able to ride faster on an e-bike than they could on a regular bike, but the most common e-bikes top out at 20 mph, a speed that a fast road biker can easily surpass. People still generally ride e-bikes slower than most people drive their cars, even on narrow streets. If someone on an e-bike has a solo crash, they may get more injured than they would on a standard bike because of the greater weight of the bike. A person on an e-bike has no more defense against a 2-ton vehicle than any other vulnerable road user (people biking, walking, on scooters, etc.).
A more accurate way to say this might be: "Riding on roadways lacking safe bike infrastructure poses a danger to novice and expert bicycle and e-bike riders."
Another account of the crash that killed Champlain-Kingman, this one from NBC7 in San Diego, includes this sentence: "The San Diego Sheriff's Department said he rode into the path of a work van, was hit and was taken to the hospital where he later died."
While the reporter has plausible deniability because they're repeating a statement from the sheriff, it's irresponsible to repeat a statement that heavily blames the bike rider, as if he recklessly "rode into the path" of the van. Again, we know that he was aware of safe bike riding practices and did what he was supposed to do.
This statement implies that the van owns the road in front of it ("the path of the van"), rather than the van driver having a responsibility to not run into other road users. In addition, the use of passive voice ("was hit") reinforces the inevitability of this collision.
The sheriff's statement removes agency from the van driver and places the blame squarely on the bike rider: He rode into the path of a van and was hit. It's part of a larger trend of treating traffic violence as a crime without a perpetrator, a force of nature. The bike rider is mentioned but not the van driver, removing culpability from the human behind the wheel to drive cautiously, look out for vulnerable road users, or even brake in time.
This framing also renders the role of infrastructure invisible. Why was the bike rider forced "into the path" of a motor vehicle? Probably because he was trying to get somewhere on his bike, and that required him to mix with fast-moving motor vehicle traffic.
The way we talk about traffic violence bolsters our society's "cars will be cars" attitude, one that accepts roadway deaths as inevitable. A better way to report on this might be: "The San Diego Sheriff's Department said the driver of a work van hit him, and he was taken to the hospital where he later died of his injuries."
Take the time to get the facts straight
In one of its pieces on Brodee Champlain-Kingman's death, NBC7 includes this informational nugget: "The state of California does have some laws regarding e-bikes, including a minimum age of 16 years old for anyone riding an e-bike that can go over 28 miles per hour." Unfortunately, this is incorrect. Class III e-bikes are restricted to riders at least 16 years old, but they have a maximum speed of 28 mph. California's e-bike classifications top out at 20 mph (Class I and II) and 28 mph, information easily accessible from the DMV.
Even government agencies sometimes mangle the truth in their rush to paint e-bikes as dangerous. A 2022 National Transportation Safety Board report that, while rightly highlighting the need for better data collection to determine the number of collisions involving micromobility devices, is chock full of misstatements. For example, the report says, "In fact, a study conducted using data from 180 University of California, Los Angeles, outpatient clinics, found that e-bikes may have a higher rate of fatalities than motorcycles and cars (Kimon and others 2022)." The only thing correct in this sentence is the name of the primary author and the number of clinics whose data were surveyed. The cited study is of e-scooter injuries, not e-bikes, and the abstract concludes: "Our observed e-scooter injury rate is likely an underestimate, but is similar to that previously reported for motorcycles. However, the comparative severity of injuries is unknown." And injury rate is a percentage based on mode share, not an absolute number. In absolute numbers, cars are the biggest menace to pedestrians, bike riders, other cars, and often themselves.
Here are the facts:
More people ride e-bikes now, so more bike-involved crashes involve someone on an e-bike.
Deaths of vulnerable road users have risen over the past several years. The proximate cause of most of those deaths was collision with a motor vehicle. The largest increase has been in pedestrian deaths.
Occasionally, someone on a bicycle or e-bike hits a pedestrian and injures or kills them. These incidents are so rare that it's impossible to determine trends.
Stories that got it right
There are, unfortunately, many more examples of how to get it wrong when reporting on e-bike safety. But there are also reporters and news outlets that get it right. Here are a few positive examples of reporting on bike and scooter collisions.
Tips for fair and accurate reporting on collisions involving e-bikes
Many reporters can and do get it right when reporting on e-bike safety. Here are some tips for accurate reporting on e-bike safety and bike-involved collisions:
Talk to bike coalitions and advocates from safe streets advocates, not just car drivers. Consult with organizations like the Association of Pedestrian and Bicycle Professionals, which have committed to helping reduce bias in crash reporting. If you're not sure who to call, call us at CalBike and we'll help!
Look for evidence. Don't conflate anecdotal accounts with a huge rise in collisions due to e-bikes.
Don't rely on law enforcement to provide the full picture of a collision. Information on the size of the vehicle, the roadway conditions (especially in a bikeway), and actions taken (or not taken) by drivers is often absent from these accounts.
Don't take official data about the parties responsible for accidents at face value. Police attribution of blame in crashes may be skewed by anti-bike bias, especially in collisions involving bike riders under 18.
Compare data on fatalities among all vulnerable road users to find trends and potential causes. For example, the rate of pedestrians killed by cars is rising faster than the rate of people killed while riding bikes. That points to other culprits, such as distracted driving and new car and truck designs that are more lethal to vulnerable road users.
Unless the situation appears to involve equipment failure or a solo crash with injuries, don't imply the e-bike is responsible for the injuries due to the speed of the bike. No vulnerable road user will fare well when tangling with a motor vehicle, whether they are riding an e-bike or not.
Don't imply that a "car hit a bike." Unless it's a self-driving car, a person was behind the wheel, and they're responsible for the safe operation of their vehicle. Include the driver in the story.
When missing or inadequate infrastructure plays a role in conflicts between people on bikes and people in cars, call that out.
https://www.calbike.org/wp-content/uploads/2021/06/CB_EBike_Ad_800x320_C_NOTEXT.jpg
320
800
Jared Sanchez
https://www.calbike.org/wp-content/uploads/2018/07/calbike-logo.png
Jared Sanchez
2023-08-21 12:08:44
2023-09-06 16:32:21
Media Guide: How to Report on Collisions Involving E-bikes