Bicycle Advocacy Projects Young People Can Do to Get People Riding in 2023
Growing recognition of bicycling as an effective carbon-free transportation option has led more youth to get involved beyond just hopping on and riding. Bicycle advocacy can be a terrific basis for a community project for school, or just for fun.
We've put together some projects that serve as a good entry point to bicycle advocacy for high school students or anyone who wants to get more involved.
What is bicycle advocacy? The basics.
A bicycle advocate is anyone who works to make our streets safer and more inviting for people who ride bikes or someone who helps people feel more comfortable riding. 
Successful bike advocates:
Work in coalition. Bike advocacy isn't a solitary activity. You can work with other bike advocates or collaborate with people working toward related goals, such as pedestrian safety, transportation justice, equitable access to public transportation, etc.
Find the helpers. As Mr. Rogers said, it's crucial to find your helpers. For bike advocacy, helpers can include local bicycle coalitions, your peers and other community members, local government or agency staff, elected officials, or other bicycle advocacy groups.
Educate yourself about what would make your community more bike-friendly. You don't have to reinvent the wheel; people are probably already working on solutions to make your neighborhood more bikeable. Find out what others have done in the past and what plans there are for the future. Your efforts will be more successful if you can show how they align with plans that are already in the works.
Here are six bicycle advocacy projects you can do to make a difference in your community.
Form a bicycle school bus
A bicycle bus is a group ride to school. Bike buses are becoming increasingly popular, especially after a large bike bus of elementary school kids in Portland made the news. 
Benefits of a bike bus:
There's safety in numbers, so riding together makes it safer and easier for students to bike to school.
Introducing young people to the joy of biking wherever they need to go is an excellent way to create lifelong riders.
Bike riding promotes health.
It's much more fun to ride with friends than get dropped off in a car.
Bike buses replace car trips and ease congestion at school drop-offs.
Seeing young people ride will encourage others to join.

Is your school or another in your community easily bikeable for some of the students? You could be the catalyst by starting a bike bus.
Getting started:
Figure out the route. Is there a bike-friendly route that is close to where many students live? Ride the route ahead of time to determine how long it will take and any obstacles along the way.
Work with school and parent groups. It's critical to get buy-in from parents and your school to make your project successful. Spread the word through parent and school email groups, and attend a PTA or school board meeting.
Where will students park their bikes? Work with the school to ensure that there's enough secure bike parking on school grounds. Do some research on recommended bike parking and advise your school on best practices.
Do you need more help? Depending on the age of the group riding together, you may need additional adults or responsible youth leaders to ride with you. If the students in your group are high school age, you may be able to ride together with little or no adult supervision. However, if you create a bike bus for elementary school kids, plan to have one adult for every 3-5 children on the ride. That shouldn't be hard — many parents will want to ride along.
What days will you ride? Set up a regular schedule so people can plan on joining the bike bus. Pro tip: Start with one day and let your bicycle bus grow organically.
More resources:
Host a bike and helmet decorating event
Riding is more fun when your bike and helmet are personalized. And you don't need expensive materials: colored duct tape, markers, glitter, and stickers are all great for decorating bikes and helmets.
Benefits of a bike decorating party:
A decorating party lets people show off their creativity and could get them to ride more.
A decorated helmet is more fun to wear, especially for younger kids, and turns safety equipment into a fun accessory.
This event boosts equity, allowing kids whose families might not be able to afford a fancy helmet or bike to make their gear unique and colorful.
Getting started:
Who will you invite? Figure out your target audience. Is this for students in your grade or some younger classmates or neighbors? That will determine the materials you need and how you spread the word.
Get materials. You can buy materials for decorating at a local art supply store, or a big box store such as Target. Thrift stores can also be a great source for fabric and other decorative items and, if your community has a resource like SCRAP in San Francisco that sells recycled materials, you can save money and find cool stuff for your art party.
Find a venue. An outdoor space such as a park, parking lot, or schoolyard will work well for your decorating party. Get permission (if needed) and make sure attendees will have access to bathrooms and water for washing up.
More resources:
Lead a community or fundraising ride
School isn't the only destination for a group ride. You could organize people to ride together to a farmers market, performance, community event, or other destination. It could be a one-time event or a regular outing.
You can also do a ride to fundraise for or bring attention to a cause that's meaningful to you. For example, the Ride for a Reason started out with just four people whose children went to Oakland public schools. They rode to Sacramento to bring attention to the lack of funding for public schools in 2008. By 2022, the ride had grown to 250 people and also raised money for local public schools.  
Benefits of a community ride:
Riding with a group is a great way for new riders to learn the ropes and gain confidence. When you create a community ride, you help grow the bicycling community.
There's safety in numbers.
Your visibility on the streets increases awareness that bike riding is popular and fun for people in your neighborhood.
Riding together builds community and strengthens relationships.
Community rides can bring attention to places lacking bicycle infrastructure and build pressure to fix the problem.
If there's somewhere you would like to take a group by bike, organizing a ride is a terrific project.
Getting started:
Figure out start and endpoints. Find a good meeting place to start the ride, such as a park or public plaza.
Scope out the route. Ride from the starting point to the destination beforehand and determine the timing and route for your group ride.
Where is the bike parking? Find out where people can park at the destination, so you can let your riders know.
Get help. Depending on the size of your community ride, it's likely you'll need help before and during the ride. Having several riders familiar with the route assigned to ensure that no one gets left behind will make the event safer and more enjoyable for everyone.
Spread the word. How will you organize the ride and let people know about it? You could create an event on social media and ask people to RSVP, post flyers, spread the word through your local networks, or get the ride listed on the calendar of your local bicycle coalition.
More resources:
Create a traffic-calming street mural
A new study has confirmed that artwork painted on the roadway helps slow down cars and make the streets safer for people biking and walking. And a street mural can be a fun and collaborative community project that enhances the neighborhood. You could paint a circle in the middle of an intersection or add a colorful design to a bike lane to set it apart from the rest of the roadway.
Benefits of painted streets:
Calms traffic
Adds color and art to the neighborhood
Provides a fun, creative project where people of all ages can participate
Getting started:
Get permission. You'll need to go to your local public works department to get permission to paint on a municipal street. That could involve going to committee meetings, lobbying your city council, and meeting with other local officials. Be patient — the process of getting approvals, especially if it's something your community has never done before, can take a while.
Connect with artists. Who will design your mural? Do you want to hire a professional muralist to do the design or lead a youth group to make the artwork?
Find funding. You'll need money for paint and, possibly, to pay an artist for a design. Make sure you use a type of paint that your city approves for street painting and that will last through rain and being driven over.
Get a group of painters. The painters don't have to be experienced artists. Your muralist can draw the outline and give instructions, and people of all ages can play a part in putting paint on the pavement. You'll need to work quickly, particularly if you need to block traffic while painting, so a big group is recommended.
Pro tip: If the steps to create a permanent mural are too much, use chalk to draw on the pavement and create temporary artwork. You won't need the permits and you can still bring the community together for a day of fun that reclaims common space for people who walk and bike.
More resources: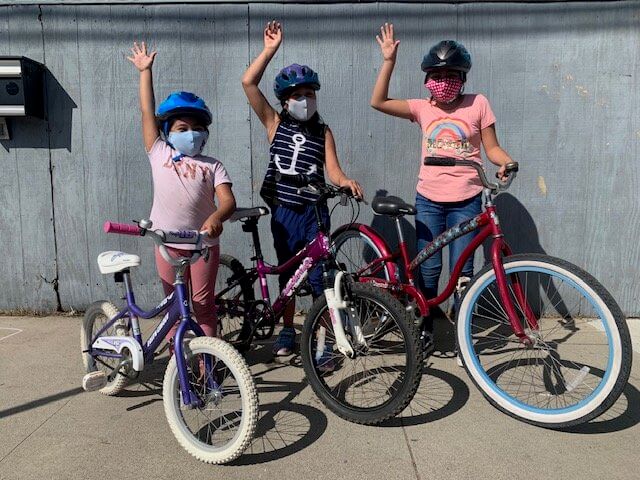 Bring a bicycle education class to your school
Giving people the knowledge and skills they need to ride safely is a terrific way to get people biking. A bicycle education program is the best way to gain skills, but most people don't have the time or inclination to seek out a bike riding class (or think they already know it all).
Benefits of a bike education class:
Educates people on how to ride more safely
Encourages people to ride more
Creates confident, safe bike riders who understand the rules of the road
Getting started:
Find bike instructors. The League of American Bicyclists has a certification program for bicycling instructors, and you can find one near you on their website. But first, contact your local bicycle coalition. Many bicycle advocacy groups offer biking classes with certified instructors, and they may be able to help you arrange bike riding classes at your school.
Coordinate with school administrators. Work with school personnel to get the required permissions and find an appropriate space. You might need outdoor space if your class includes on-bike training.
Find funding. You'll need money to pay for the instructor's time and materials, if any. Find out the costs and ask your bicycle coalition and your school for financial support. You could do a fundraising ride for bicycle education!
More resources:
Advocate for a bikeway that will make your community safer
Is there a street you'd like to ride but it doesn't have a safe bikeway? Join with your local bicycle coalition and other local safe streets advocates to ask your community to prioritize this route for improvements or to build a specific bikeway.
Benefits of advocating for a new bikeway:
If you're successful, you'll create a new biking route or make a current route safer.
You'll learn valuable lessons about how local government works that you can use to advocate for other causes.
You'll connect with your local bicycling community.
In the process of pushing for a new bikeway, you'll learn more about safe bike infrastructure design and implementation.
It's an excellent way to learn more about how your local government works.
Getting started:
Connect with your local bike advocacy group. Find out if they already have a campaign on your street that you can join. If not, ask them to add your bike route to their list of campaigns.
Learn the repaving schedule. Your city probably has a public works department that's in charge of road repairs. Find out when the street that needs a bikeway is scheduled for repaving; that's the best (least expensive) time to add a better bikeway.
Connect with the agency in charge of this route. If your city has a person or a department in charge of bike infrastructure, let them know where you see a need. Some communities have citizen-led bicycle advisory committees; go to a meeting and ask to get your bikeway on the agenda.
Conduct a public comment training. Meet with others who support your cause and brainstorm the most effective messages for upcoming meetings about it. Write down ideas and practice making public comments so you'll make a big impact when you get to speak.
Go to city meetings. Brink your issue to your city council's transportation committee. Don't give up — infrastructure changes can take time.
More resources:
For more ideas: join your local bicycle coalition
Here are two more ideas you might want to consider:
Bring bicycle repair resources to your school. One of the biggest reasons people don't ride is that their bike breaks down, and they don't know how to fix it. See if there's a traveling bike repair van that could come to your school. Or partner with a community bike shop to host a bike repair class for youth.
Create a bike donation drive. Ask people in your community to donate bikes they don't need anymore to a community bike shop. You can also connect people who need a bike with a low-cost or free donated bike.
One of the best ways to jumpstart your bicycle advocacy is to team up with experienced and passionate advocates. You'll find them at your local bicycle coalition or other safe streets advocacy group. They can connect you with bike advocacy projects and a community of people who care about biking, like you.
https://www.calbike.org/wp-content/uploads/2018/11/calbikesummityouth.jpg
360
640
Kevin Claxton
https://www.calbike.org/wp-content/uploads/2018/07/calbike-logo.png
Kevin Claxton
2022-11-28 19:17:47
2022-11-28 19:17:49
Bicycle Advocacy Projects Young People Can Do to Get People Riding in 2023